The betting moves closer to a hung parliament
The betting moves closer to a hung parliament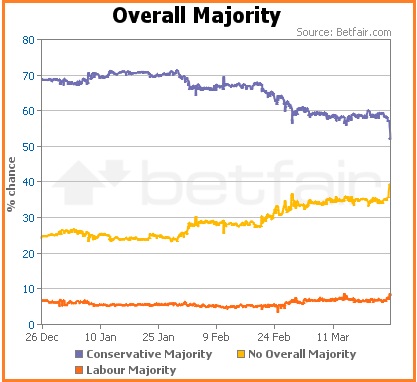 | Seat spreads | CON | LAB | LD |
| --- | --- | --- | --- |
| SportingIndex | 326-331 (-6) | 227-232 (+4) | 56-59 (-1) |
| Extrabet | 327-332 (-1) | 226-231 (-4) | 58-61 (+2) |
| Betfair | 330-334.5 | 231-235 | 55-56.5 |
Has market sentiment finally changed?
After a period when the commons seat betting markets have been more towards the Tories than the polls we've now seen some movement and the Tory sell prices of both SPIN and ExtraBet are just above the critical 325 seat threshold.
It's been the same on the overall majority markets where Ladbrokes tightened their NOM price to 6/4.
Mike Smithson