A MORI double whammy for Salmond and the SNP
A MORI double whammy for Salmond and the SNP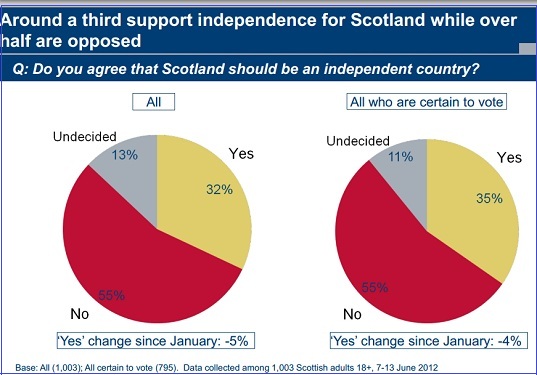 Three weeks into the campaign and NO increases lead
There's a new telephone poll from MORI of Scottish voters and the results are not encouraging for Alex Salmond or his party in their effort to secure a YES vote in the 2014 Independence referendum.
On top of that the SNP leader sees a decline in his satisfaction ratings although they still remain positive.
These are some of my Tweets.
MORI Scotland: Salmond's leadership ratings see sharp drop. He's down a net 21% on last August & 9% on January

— Mike Smithson (@MSmithsonPB) June 19, 2012
The MORI Scottish referendum poll showing a 20% lead for NO used the SNP'S own wording for the question on the ballot

— Mike Smithson (@MSmithsonPB) June 19, 2012
MORI Scotland: Older voters the most hostile to independence. The retired divide 64% NO to 23% YES

— Mike Smithson (@MSmithsonPB) June 19, 2012
MORI Scotland: Those not working the most enthusiastic for independence. They divide 44%-44% yes-no

— Mike Smithson (@MSmithsonPB) June 19, 2012
MORI Scotland: Just 24% of Scots say they're satisfied with Cameron against 74% saying dissatisfied

— Mike Smithson (@MSmithsonPB) June 19, 2012