Who'll be the PB Poster of the Year 2011?
Who'll be the PB Poster of the Year 2011?
Step 1 – your chance to make your nominations
Every year at this time, as PB regulars will know, we hold an election to determine the "PB Poster of the Year".
Quite simply which of those who have posted comments on the site do you think has added most to your understanding and and enjoyment during 2011.
This year we are having a slightly different process. A short-listing committee consisting of Peter the Punter, Sunil Prasannan and myself will decide which of those nominated by you should go to the online ballot or ballots that will be take place between Christmas and the New Year.
What the committee needs now are your nominations and also suggestions of special categories that might be appropriate.
Use the thread below to make the case for the poster or posters that you think should be recognised initially by being put on the ballot for next week's election.
The limitation on former POTYs that we've had in the past will not be imposed this time.
Over to you.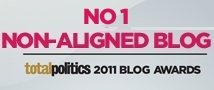 Please consider supporting the PB Christmas Appeal
PB does cost a fair bit to keep going and this year we are holding a Christmas appeal to try to raise £2,500. This will help cover the core operating costs for the first few months of 2012.
Thanks to those who have contributed already – we are about a fifth of the way there.
Many thanks.