ComRes finds little support for public sector strikes
ComRes finds little support for public sector strikes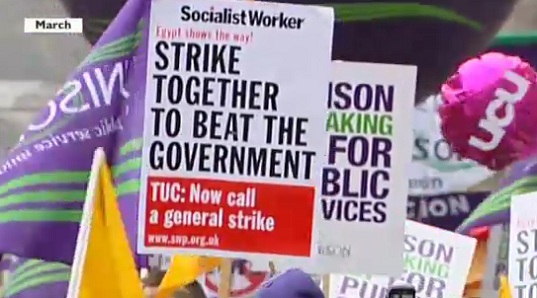 Are the unions losing the war of words?
A ComRes/ ITV News poll on the public sector strikes has found that the public is negative about both the prospects of success and reveals a warning to strikers that they will win little sympathy for strike action in the present financial climate.
More than half (54%) say that the public sector strikes ultimately stand no chance of succeeding in changing government policy spending cuts.

To another question 63% warn that 'public sector workers won't win much sympathy for strike action because everyone has to shoulder the burden of cuts. Just one in five (20%) do not agree.
The lack of sympathy for industrial action is further reinforced by the fact that only 34% disagree that the public sector 'is too large and the Government is right to cut it back'.
Finally, more people agree (44%) than disagree (34%) that 'different groups of public sector workers should not be permitted deliberately to coordinate the timing of strike action'.
Mike Smithson