Exactly a year ago today – when politics changed forever
Exactly a year ago today – when politics changed forever
Without the debates could Labour have hung on?
Today is the first anniversary of an event that was to have a profound impact on the 2010 general election and which probably changed British politics forever – the first of the three leaders' TV debates.
It was staged at the Granada studios in Manchester and I was fortunate to have been there – taking part in the post-debate discussion on ITV with Jonathan Dimbleby.
We all know the story of what happened in the polls immediately afterwards but it's useful to remind ourselves of the trend in the weeks beforehand. For, as shown in the chart of ICM election polls below, the Tory share had edged downwards and the gap between the two main parties was getting closer and closer.
By April 15th 2010 it was conceivable that Labour might have been runner-up on votes but winning most seats.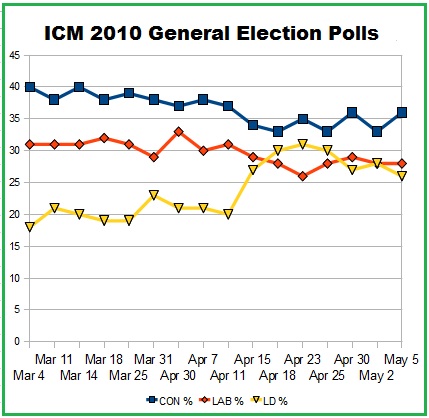 The first debate changed everything. Nick Clegg was deemed winner by all the quickie polls and suddenly the election campaign had a different narrative. Other pollsters recorded the bigger yellow surges and at one stage YouGov had Clegg's party in the lead on 38% – less than three weeks later it actually got 23.6% of the GB vote.
To my mind the main impact of the debates was that it altered the agenda for the entire campaign and in doing so much reduced the effectiveness of Labour's final effort.
Many Tories blame Dave for agreeing to the debates in the first place and for allowing Clegg to be there. They are wrong. The Tories had lost almost any chance of a majority well before the first debate took place.
As the polling shows it was Labour that was the big loser even though it recovered a touch by May 6th 2010.
Without the debates I believe that Brown would still be prime minister perhaps in coalition with the Lib Dems. The Tories would probably have a different leader.
Mike Smithson