Lib Dem deposit losses at the General Election
Lib Dem deposit losses at the General Election
The Wythenshawe & Sale East saw for the eight time in fifteen Great British by-elections since 2010 the Lib Dems lose their deposit.
At the 2010 General Election, the Lib Dems were the only party out of the three established GB wide parties not to lose their deposit in any seat. 
The above graph shows just how badly the Lib Dems have done, all bar one, their share of the vote has fallen, it was only in the unique circumstances behind the Oldham East and Saddleworth by election that could explain the increase.
Whilst by-elections are very different to General Elections, I think the Lib Dem focus in 2015 will be on the seats they already hold. The Ashcroft polling on the Wythenshawe & Sale East by-election, showed the Lib Dems trailing fourth when it comes to contact with the voters. There's no point in expending  resources such as time, money and activists on seats you're never ever going to realistically win.
So it's time to review Paddy Power's betting market on how many deposits the Lib Dems will lose in 2015. When this market first opened last summer, I backed 126 to 150 at 6/1 and more than 150 at 9/2, I still think there's value in backing these bands at the current prices.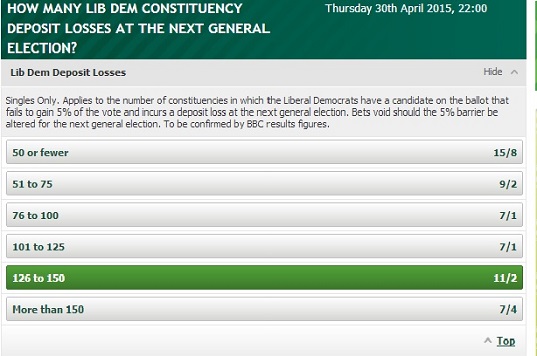 PBer AndyJS has compiled a list of the Lib Dem share of the vote in each constituency at the last General Election, it can be viewed here.
TSE