Why Tim Farron shouldn't be written off as Nick Clegg's successor
Why Tim Farron shouldn't be written off as Nick Clegg's successor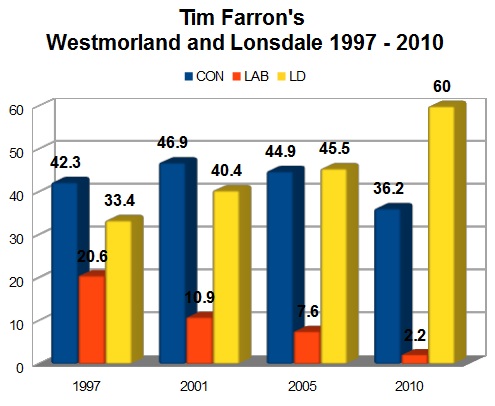 The man who squeezed the LAB vote down to almost nothing
With Nick Clegg's YouGov ratings dropping to its lowest level ever, a net -61%, inevitably the speculation in the run up to the Lib Dem conference on Saturday will be on how secure his position is. Could we see a leadership contest this side of the general election?
That won't be decided by delegates but by the party's 57 MPs many of whom are feeling less than comfortable about their chances of retaining their seats. Clegg's decision to block the boundary changes takes away one level of uncertainty but however they look at the polls the prospects don't look good.
So the conference speeches by the likely leadership contenders are going to attract a lot of attention. The party president, Tim Farron, made a barn-storming speech last year in Birmingham and no doubt he'll do the same in Brighton.
Farron's got an extraordinary campaigning record, something that counts a lot amongst the yellows, and he knows more than anybody how to squeeze the Labour vote.

This is something that's going to be critical if the party is not to be reduced to a handful of seats.
Just look at the chart above. In the 1997 Labour landslide the red team secured more than 20% of the vote in Westmorland and Lonsdale. Tim Farron became candidate in 2001 and Labour lost nearly half its vote. The squeeze on the red team continued in 2005 enabling Farron to narrowly take the seat from Tory shadow education Secretary, Tim Collins.
At the last general election Labour slipped to 2.2% losing its deposit. Farron chalked up 60% securing a 23.8% majority.
In 2010 Farron was elected as party president but has remained outside of government.
Betfair make Farron a 4.3/1 shot for next Lib Dem leader. I'm beginning to think he might have a chance.