MEMO to Nigel Farage: Check out the Corby Cube Controversy
MEMO to Nigel Farage: Check out the Corby Cube Controversy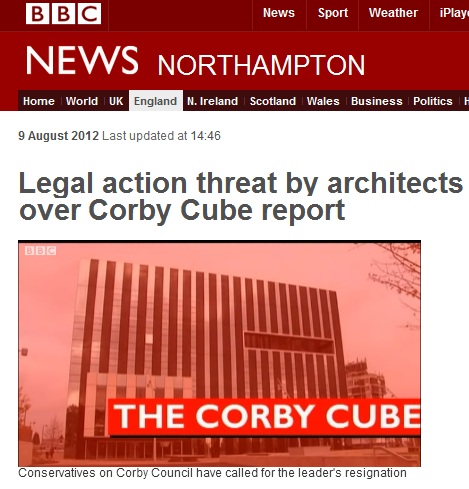 Click to see BBC regional news report
Is this the issue to put Labour on the defensive?
A good by-election campaign always needs a good local issue – especially one that in skillful hands can be used to portray the front-runner in a poor light.
Enter the Corby Cube – which opened on 2 November 2010 and cost £47.5m. It houses a chamber for the Borough Council, a Registry Office, a public library, a 450-seat theatre and a 100-seat studio theatre.
According to Wikipedia "A report by Corby Borough Council in 2012 revealed that the Cube was built with dangerous design flaws and almost double its original estimated costs and a capacity of only half of what was planned".
As the regional BBC news report above shows this has become the big local issue with the Labour run council very much on the back foot. There's a lot of material that, fairly or unfairly, can be used to impede the red team band-wagon.
In the days when the Lib Dem by-election machine was at its most effective this would have been seized upon and and tens of thousands of leaflet would have been pushed through letter-boxes in an effort to discredit Labour.
Maybe the party best placed to cause havoc is UKIP. They need a good candidate – Farage himself perhaps – and they need to get that literature moving.
Even if they don't seize the opportunity you can see the Tory defence of the seat using the Corby Cube as a stick to beat Labour.
The next couple of weeks on PB: Ahead of the party conference season and the run-up to the US election on November 6th I am taking the opportunity to take a short holiday. There are some interesting guest slots in the pipeline and TSE will be in the hot seat.