Dave's "Best Prime Minister" lead narrows to just 5 points
Dave's "Best Prime Minister" lead narrows to just 5 points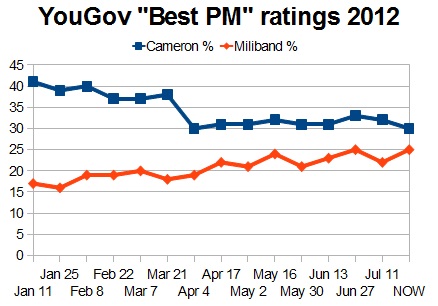 He was beating Ed by 24% only six months ago
When the Tories started to slip behind in the voting intention polling the party would take some comfort in the fact that their man invariably did far better than Ed Miliband in the leadership ratings.
We heard it time and time again – there was no way, it was said that voters would ever elect the geeky Ed Miliband as PM.
Then in the period following Osborne's budget cock-ups the blues appeared to be getting everything wrong and Ed edged up and then took a lead in the leadership numbers.
But there was another comfort zone for the Tories – the constant Cameron leads in the Best PM numbers.

Those we were told what really mattered and here Ed was a long way behind.
Well we had some more of these ratings overnight from YouGov and Dave's lead has been cut back to just 5%
The trend is seen in the chart above.
It is not inconceivable that Ed could soon be almost level pegging.
NO COMMENTS WHICH DIRECTLY OR INDIRECTLY REFER TO HACKING WILL BE ALLOWED