Should Dave be able to expect better of his MPs?
Should Dave be able to expect better of his MPs?
Did Jesse & co make it easy for Ed Miliband?
It's been a pretty terrible 24 hours for David Cameron. 91 of his MPs rebelled against the Lords bill, he was seen losing his cool with Jesse Norman the rebellion organiser, and Ed Miliband had his clearest PMQS victory since becoming opposition leader.
I bet that Cameron is really looking forward to his holidays. The question is whether this is temporary or has permanent damage been done?
To my mind the thing that will be most remembered will be the confrontation with Norman. It confirms all the stories about his temper and what really gets under his skin.
Ed Miliband was merciless in his PMQ attacks and the leader who "was the future once" looks damaged.
To my mind Dave should be able to expect better of his MPs. Leading a coalition and having to balance the pressures from both the party and his coalition partners cannot be easy.

Those members of the blue team who are causing him grief simply don't comprehend the challenges.
Dave will struggle on but the real winner from the their activities has been Mr. Miliband.
If you would like to purchase one of Marf's prints or originals, please contact her here.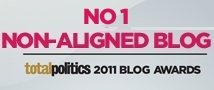 .