Now Opinium makes it 5 pollsters out of 5 for Boris
Now Opinium makes it 5 pollsters out of 5 for Boris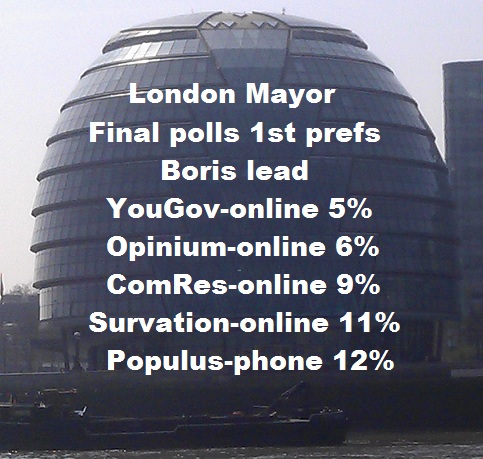 But which one will be most accurate?
There another London mayoral poll out, an online survey from Opinium – the online firm which never seems to want to communicate with me. (Hi guys could you put me on your email list?). It has Boris 43%/Ken 37%/Paddick 7%/Jones 6%/Benita 3%/ UKIP 3%.
Opinium's figures for the top two are pretty close to YouGov and the overall picture from five different firms is that Boris will be staying at City Hall. In the face of such evidence it is very hard to call it any other way.
It is not often that we get the chance to test a number of pollsters against a real outcome and each of their performances will be quoted time and time again.
The big battle could be for the London Assembly on which there are just 25 places. Its main power is that it can, with a two thirds majority, block the mayor's budget. So if the Tories are reduced to 8 or fewer seats the Boris's second terms might be a tad more challenging than the first.
YouGov were suggesting from their figures that the blues were going to win fewer than nine places.
One of my bets that looks promising is the one that Richard Nabavi recommended on Tuesday night – the 2/1 that was then available on Boris winning the mayoralty and LAB winning most seats on the assembly. The bet is no longer available.