How well will George do on Thursday?
How well will George do on Thursday?
Could he give Miliband/Labour a bloody nose?
When the Bradford West by-election was called at the start of the month it looked a pretty standard LAB hold on an increased majority but with a reduced turnout. The voting at the general election was:
LAB 45.3%: CON 31.15: LD 11.7%
Then came news that George Galloway was entering the race in an attempt to get back into parliament. He opened in the betting at 33/1 but now has tightened to 10/1.
Given the large Muslim communities in the seat it seemed quite fertile territory though he's facing a huge challenge against a young Labour candidate who is deputy group leader on the city council.
There's a good report by Helen Pidd in the Guardian today which gives a sense of the battle that is going on.
"Walking around Bradford last week, it was clear many of those planning to vote for Galloway were jumping ship from Labour. No wonder the Conservative candidate – a local businesswoman, Jackie Whiteley – told the Guardian she was happy Galloway was in the race. She hopes he will take Labour votes. He's already nabbed their staff. One of Galloway's campaign managers, Naweed Hussain, switched sides 10 days ago, despite having done the same job for Singh over three general elections. He was fed up, he said, with Labour "bypassing democracy" in the seat it has held since 1974."
It's that message about the way Labour operates in the city that might just resonate. Galloway has played the Labour taking you for granted card before to good effect.
Given the numbers it's hard to see him doing it but Galloway has it within him to come away with a reasonable result. It is conceivable that he could attract anti-Labour tactical votes from both the blues and yellows. If you want to give Ed or his party a bloody nose then Galloway could be seen by some as the best option.
Ladbrokes have an interesting Galloway share of the vote market. The prices are:
0-10% 5/4, 10-20% 6/4, 20-30% 7/2, 30-40% 8/1 and 40%+ 16/1.
I might be tempted by a 20%-30% bet.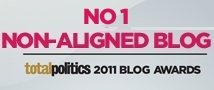 weg