Santorum leading Mitt by 15pc in new national poll
Santorum leading Mitt by 15pc in new national poll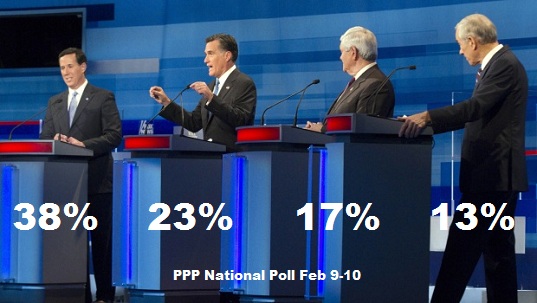 But will the boost from Tuesday's election last?
There's a new national poll of Republican primary voters just out and, as can be seen from above, has Rick Santorum taking a huge 15% lead over the former front-runner, Mitt Romney.
This is the first full national poll to be reported since Tuesday three nominating contests in Colorado, Missouri and Minnesota which were all won by the ex-senator from Pennsylvania.
When asked "If the Republican candidates for President were just Mitt Romney and Rick Santorum, who would you vote for?" those sampled split 56% to 32% to Santorum.
The latest numbers are from Public Policy Polling which was the only firm to cover the Tuesday contests and to predict on the night before that Santorum was going to do very well.
In taking the lead Santorum becomes the eleventh polling front-runner in the race to win the GOP nomination. All the others either didn't stand or have fallen back sharply.
Where Santorum is scoring particularly well is on "favourability" – something that US pollsters ask a lot. The question is "Do you have a favorable or unfavorable opinion of Rick Santorum?" He's at 64-22. Mitt's at 44-43 while Newt rates 42-44.
Whether Santo numbers will survive the huge negative offensive likely to be launched by Romney is an open question.