Clegg gets best leader ratings in nearly a year
Clegg gets best leader ratings in nearly a year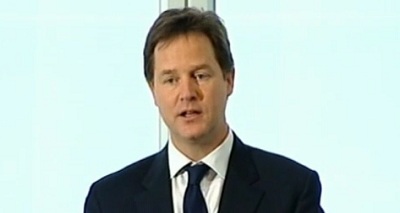 And Miliband moves up from last week's record low
This week's leader ratings from YouGov are just out and all three main party leaders see improvements on a week ago.
Camerons "Well/Badly" figures are 46/47 making a net minus 1. Last week it was minus 3. Ed Miliband is on 20/68 which is a net minus 48 compared to 53 last weekend. The improvement is still not enough to be scoring better than Nick Clegg who has had the best week of all following his speech on tax. He has gone from 21/71 last week to 26/64 today. So a net change of plus 12.
Clegg's tax speech, which was widely covered and pretty well received, raised questions of whether he was pre-empting Osborne's budget.
Quite what went on within the coalition we don't know but it's clear that we are seeing a specific effort on policy differentiation from the yellow team.
The last time that Clegg had better YouGov ratings than today's was last March just after his party's Spring Conference when the planned NHS changes were centre stage.