Will Feltham mark the end of the blue poll surge?
Will Feltham mark the end of the blue poll surge?
| Party | Share | Change |
| --- | --- | --- |
| LABOUR | 54.42 | +10.79 |
| CONSERVATIVE | 27.71 | -6.32 |
| LIBERAL DEMOCRATS | 5.87 | -7,87 |
| UKIP | 5.49 | +3.45 |
The good news and bad news
Good news for Labour who saw an 8.5% swing from the Tories after a week when their national poll lead had vanished. More evidence of how effective the party is at defending by-elections. An excellent performance.
Bad news for democracy because the turnout was just over 28% – the lowest for more than a decade.
Good news for UKIP which saved its deposit and saw a big increase in its vote – although this was not enough to edge the Lib Dems out third place.
Bad news for the Lib Dems in seeing a big fall in its vote though relief at being ahead of UKIP and retaining its deposit. This was not another Barnsley central. This could be worrying because parts of the constituency get shifted into a notional Lib Dem seat under the boundary proposals.
Good news for the new Survation pollster which had UKIP and the LDs neck and neck.
Bad news for Michael Ashcroft's polling which had put the LDs on 10% with UKIP on 5%.
Good news for somebody in PB's prize prediction competition – we'll announce the winner later.
Bad news for those who took Tim's betting tips.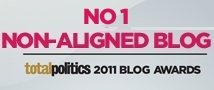 Help keep PB going by making a donation to support the site's costs