Is Cain about to quit the race?
Is Cain about to quit the race?
Where's his support likely to go?
The big story in the race for the Republican party nomination is an announcement that's expected shortly from the one time front-runner, the pizza chain boss, Herman Cain, on whether he's going to quit the race.
His bid for the White House has taken a lot of blows in recent weeks and the latest, about a 13 year long affair, might just have pushed him over the edge.
But we don't know – this is so unpredictable that he might be saying that he's going to keep in the battle with a renewed energy.
Certainly he's seen his poll shares drop sharply in recent weeks and the main Iowa paper, the Des Moines Register, is reporting a big fall in a poll that it's commissioned.
If he pulls out the general view is that this will help Newt Gingrich. I'm not so sure. Cain had been doing very well with the religous vote, important in Iowa which holds its caucuses a month today.
I just wonder whether one of the candidates who has not had his "time in the sun" might benefit. Yesterday Sarah Palin came out with a statement saying very positive things about Rick Santorum.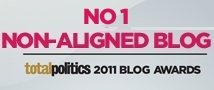 Recent Threads