Is Sarah Palin about to join the Newt band-wagon?
Is Sarah Palin about to join the Newt band-wagon?
Could her intervention be decisive?
For those who love to follow and bet on the White House race it's been an eventful and absorbing weekend with a lot of money being wagered.
The table above from the Intrade website says it all – from being given a greater than 70% chance by the punters on the betting market only a few days ago the ex-Massachusetts governor, Mitt Romney, has seen his price edge down to its current 57.4%.
At the same time all the attention has focused on Newt Gingrich, the controversial ex-house speaker, who has seen his Intrade price move from single figures to its current 23.8%. Can Mitt really be beaten?
Yesterday the Manchester Union Leader, the biggest and most influential newspaper in New Hampshire, came out with a ringing endorsement for Gingrich – a move which is being seen as a massive blow to the favourite. The state, of course, is where the first proper primary will be held in early January and Romney, from just across the border in Massachusetts, is almost a local. One or two polls there have had him in the 40s and he'd been regarded as a near certainty.
The Romney camp will be acutely aware that four years ago their man was in almost as good a polling position until the Union Leader came out for John McCain.
The second development that's attracting lots of attention is a suggestion on the influential political site, Real Clear Politics, that 2008 GOP VP nominee, Sarah Palin, might endorse Newt.
RCP's Scott Conroy writes: "..But Palin would likely have the biggest influence if she were to back a candidate before the Iowa caucuses. Her still considerable clout with the evangelical and Tea Party-leaning wings of the party could have a particularly significant impact in Iowa and in the first-in-the-South primary in South Carolina.

Aides emphasized that while Gingrich currently appears to be the front-runner for Palin's endorsement, her thinking could change."
The Iowa caucuses are on January 3rd with the New Hampshire primary a week later.
We haven't seen much polling for a few days but all that could be about to change. Which way is the race being seen now?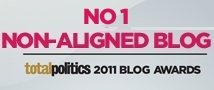 Recent Threads