Will this latest polling put more pressure on EdM?
Will this latest polling put more pressure on EdM?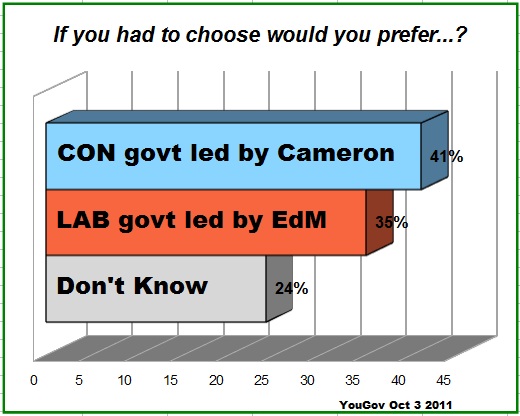 CON/Dave take 6% lead in YouGov's forced choice question
One polling finding which doesn't usually attract much attention is the fortnightly forced choice question which is put by YouGov.
Here respondents are asked: "If you had to choose, which would you prefer to see after the next election, a Conservative government led by David Cameron or a Labour government led by Ed Miliband?"
You'd expect there to be close correlation between responses here and voting intention. Not always so. In the latest YouGov daily poll published overnight Labour has a five point lead over the Tories – which is about the norm for the pollster.
But to the forced choice question LAB/Miliband have moved to a six point deficit which is by far the worst position they've seen for some time. At the start of August, see here, the red team had a three point lead.
This polling question is a sort of hybrid combining views on the leader and the party.
Interestingly there's been a big change in the views of Lib Dems supporters. Back in August the split was 45%-27% in favour of the Tories/Dave. In the overnight poll that's moved to 53%-18%.
Another point of detail is that while 98% of Tory voters back the CON/Dave option only 88% of Labour ones choose LAB/EdM.
My usual caveat about autumn polls: The party conferences can often produce odd outcomes.
This is my last post before going on holiday. There are a number of guest slots planned but there will be more open threads. This afternoon sees "PB Conference Talk – open thread".