Will October's polling be crucial for EdM?
Will October's polling be crucial for EdM?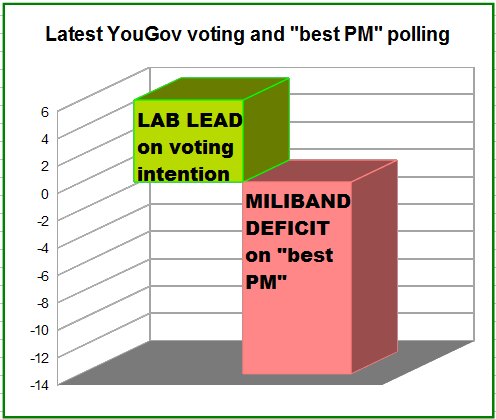 Is the media narrative now about his leadership
The chart contrasts the Labour lead in the overnight YouGov daily poll (6%) for the Sun and the deficit Ed Miliband has when the same sample was asked "who would be the best PM" (-14%).
When the "best PM" question was asked just before the general election Gordon Brown trailed Cameron by just six points.
The detail of the overnight polling shows that just 1% of LibDem voters named Ed as "best PM" with 20% going for Cameron.
It's that different picture between voting intention and leadership responses the we've seen have had in several recent polls and, interestingly the latter are now being given much more attention by commentators.
What this all does is fuel the media narrative about Miliband's leadership and he could have a difficult few weeks.
Will he survive? That's hard to say but the bookie, Stan James, now makes Miliband 2/1 to be next leader out. Clegg is at 3/1.