Happy Birthday to me and the coalition
Happy Birthday to me and the coalition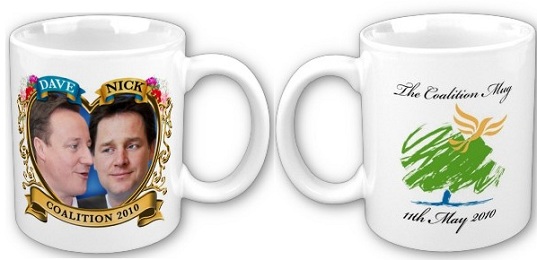 How different it all seems one year on
Today's my 65th birthday and, as no doubt it will be hard to avoid today, the first anniversary of that Tuesday in May 2010 when Gordon Brown, Sarah and his two children left Number 10 for the last time as PM.
I'm celebrating (my birthday that is) with a cup of Darjeeling First Flush 2011 Orange Valley which for any PB tea buffs is absolutely sensational and well worth the £15.95 for 100 grams. I'm not, however, drinking it from my coalition mug simply because fine teas like this tastes far better from fine china. The coalition is different matter.
Looking back to those heady days the real killer for the Lib Dems and, if it was planned, strategic brilliance by Osborne and Cameron, was the appointment of Vince Cable as business secretary with responsibility for higher education.

This meant that the inevitable hot potato of the student fee issue was in the hands of a Lib Dem cabinet minister making it a lot harder for the party's ministers and MPs to abstain in the votes as was stipulated in the coalition agreement.
That more than anything has dominated the last year. Did Clegg & Co not realise the poisoned chalice that was being offered when Cable was allocated that portfolio?
Having been a great admirer of Osborne's strategic skills I believe he knew what he was doing when, no doubt, he was advising Cameron on the formation of the cabinet.
The other mistake that the yellow side made was that Clegg did not insist on a proper departmental portfolio. The result was that he operated without the normal support structure from the civil service that secretaries of state have. In many ways he was in the worst of all worlds.
So year one is over – will it get to year five? I think that's likely and should be reinforced when the five year parliamentary term is enacted.
Mike Smithson