Could moving off the issue rebound on NO?
Could moving off the issue rebound on NO?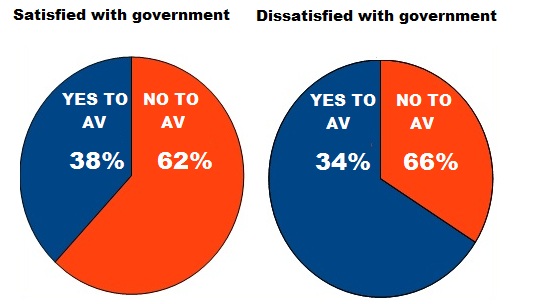 Is "YES to AV" a proxy for government dissatisfaction?
This week the NO campaign will focus its attention not on the issue that's on the ballot paper but on Nick Clegg. The aim is to make the May 5th election a referendum on the Lib Dem leader.
Ads have been drawn up with the headline "Say No to President Clegg" together with their claim that a switch to AV will cost £250m – a figure that has been attacked from many quarters.
But couldn't moving away from the question on the ballot paper cause voters to think more broadly about their view of the government.
The polling suggests this might be happening already.
The challenge for NO is seen in the above charts – based on data from Thursday's Ipsos-MORI poll. For this suggests that there's a strong linkage between being whether you are satisfied with the government and whether you'll vote YES or NO.
Very helpfully MORI provided cross tabs on the referendum question to responses to the pollsters monthly standard question "Are you satisfied or dissatisfied with the way the Government is running the country?".
Amongst those saying they are certain to vote in the referendum the "Satisfied" split NO 62% to YES 38%. Amongst the "Dissatisfied" the referendum split was NO 34% to YES 66%. Overall in the poll respondents said 60% Dissatisfied to 31% Satisfied on the way the government is running the country.
Mike Smithson