Could Bercow still be Speaker in 2038?
Could Bercow still be Speaker in 2038?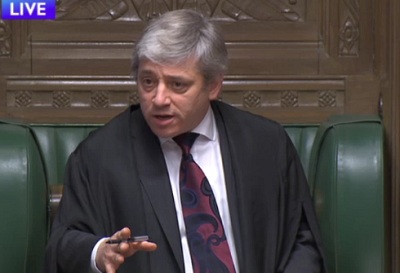 Will he follow predecessors and stay till his mid-70s?
Last night night I took part in a PoliticsHome poll of "Westminister insiders" on John Bercow's chances of staying in the job for this parliament.
Thinking about the question it is hard to see how he could be forced out if he was determined to stay. He'd brazen it out, surely, and it's unlikely there would ever be a situation when a there'd be a majority of MPs willing to pass a vote of no confidence.
And in the very likely event of him remaining until the next election could he just go on and on to, say, he when was in his 70s?
The thing about Bercow is that his initial long-time political objective, to rise to a senior position in the Tory party, ended in failure. Once that became apparent he switched to pursuing the speakership and he's not going to let that go easily.
The one thing that could stop him continuing is if his the Tories decide to break with precedent and run a candidate against him in Buckingham.
George Thomas, that great Speaker of the 1970s who came to fame when parliament was first broadcast, carried on until he was 74. Bercow is now 47 – so if he follows Thomas he'll be stepping down in twenty seven years time – 2038.
Mike Smithson