Baxter prediction – Labour majority 134
Baxter prediction – Labour majority 134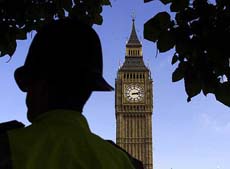 Will Michael Howard only get four more seats?
The Martin Baxter prediction based on applying his latest poll of polls to what happened in 2001 on a uniform national swing makes grim weekend reading for the Tories. It shows these vote shares
LAB 37: C0N 31.3: LD 21.6
Converting this into seats Martin's formula produces LAB 390 CON 169 LD 57.
So even though Labour would be 5% down on their 2001 vote share they lose just 13 seats on the notional old House of Commons with the Scottish changes factored in.
The current Labour spreads of 345-353 seats offer great value bets for those who believe –
the pollsters' are not overstating Labour – this was an average of 6.6% last time
there will be no seat changes outside the national swing
the notion of tactical vote unwind does not exist
In 2001 the pollsters were largely spared embrrassment by the size of the Labour lead, tactical voting and higher than average swings by incumbent MPs.
Can we be certain that in a changed political climate that it will work in the same way? If it doesn't then seat changes could be disproportionate.
Mike Smithson