George Galloway helps the Tories to win on the Isle of Dogs
George Galloway helps the Tories to win on the Isle of Dogs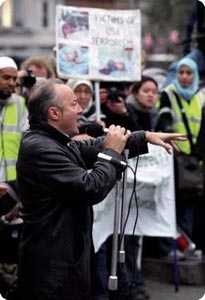 Tories win their first ever council seat in Tower Hamlets
An impressive performance by the Tories and a big surge for George Galloway's RESPECT's party saw Labour forced into third place in what at first sight looks a bizarre local council election yesterday in Tower Hamlets.
In the Millwall ward on the Isle of Dogs the Tories took a seat because RESPECT split the Labour vote and there was a huge surge in the Tory vote. The result is even more remarkable remarkable because it's the first time they've won a seat on the council since it was created in the reorganisation of local government in the capital in 1964.
The Tory victory provides welcome good news for Michael Howard and is a further demonstration of RESPECT as an electoral force.
The losers here were Labour, which lost the seat, and the Lib Dems which polled only a fifth of what the Tories got.
Council by-election are most of all a test of organisation and the morale of the activists. What this all means in General Election terms is hard to call but for the Tories to increase their votes by nearly 50% in such barren territory shows a level of activity and commitment that will surprise a lot of people. Quite the reverse happened with Labour and is further evidence of how in certain areas the aftermath of the Iraq war has seriously damaged local organisation which will have an impact at the General Election.
The real impact of the result is the heart and encouragement it gives to Tory activists who have not had much to cheer about of late and that it enables George Galloway and RESPECT to maintain their momentum.
Yesterday's contest follows the Euro Elections on June 10 when RESPECT ended as top party in the council area which covers several parliamentary constituencies. Respect also put up a good performance in the July by-elections and, indeed, probably stopped the Lib Dems from taking Birmingham Hodge Hill.
Although there is at least one market where you can bet on UKIP winning seats at the next General Election no bookmaker has yet factored George Galloway's RESPECT party into their General Election betting. This is a pity because following this result the anti-war party threatens to win a seat from Labour in one of its heartlands.
Mike Smithson
Picture http://designermagazine.tripod.com/GeorgeGallowayPIC2.jpg